Resources for novel coronavirus (COVID-19)
March 25, 2020
If you have symptoms or exposure to COVID-19:
If you or a family member has flu-like symptoms (fever, cough or shortness of breath), or believe you may have been exposed to coronavirus, you should:
Remain home and call your primary care provider. Calling ahead helps to determine the most appropriate care.
Refrain from visiting hospital emergency departments, urgent care or outpatient clinics to avoid spreading the virus. If you need to visit the ANMC Emergency Department with symptoms, call ahead for procedures to limit exposure to others at (907) 729-1729.
If you need immediate medical care, call 911 or your local emergency responders.
Additional recommendations from the CDC here.
The spread of the coronavirus, also known as COVID-19, continues to be a topic of great concern across the globe. ANTHC takes this potential threat very seriously, and we remain engaged and are prepared to respond to treat the virus .
ANTHC and our staff at the Alaska Native Medical Center are working on all fronts to prepare for patients and to protect the community and the Alaska Tribal Health System from COVID-19. We are working with state and local public health officials to prepare and obtain and share the most current information. In the absence of other guidance, please contact Alaska 2-1-1 by phone for general questions.
---
Current status at ANMC and in Alaska
Alaska Native Medical Center does not have a confirmed COVID-19, or novel coronavirus, patient.
Confirmed cases of COVID-19 are reported by the Alaska Department of Health and Social Services, Division of Public Health. ANMC is prepared to treat and control the spread of infectious disease and is continuing to prepare to protect all ANMC patients.
We are prepared to care for patients with respiratory illness, and efforts are underway to ensure ongoing preparedness for COVID-19.
Current ANMC hospital operations
ANMC Specialty Clinics are still open and seeing urgent and emergent patients. The State of Alaska announced that all elective surgeries, non-essential medical, surgical, and dental procedures be delayed during the COVID-19 outbreak. To heed the mandates of state and health care oversight authorities and protect the health of all of our patients and our workforce, ANMC has paused all non-urgent and non-emergent procedures and specialty appointments.
Emergent and urgent are defined as:
Emergent: needs treatment within 72 hours
Urgent: needs care within 30 days
If you have questions or need to be seen, please call the specialty clinic for more information. Providers are making all efforts to see patients via videoconferencing when possible.
Special hospital and clinic notes:
Cardiology patients should enter either via the skybridge or the front Rotunda entrance of the hospital. ENT (emergency), PT, Radiology, and Surgical Procedure patients with an appointment/procedure that day can also use these entrances.
General Surgery, Neurosurgery, Pain Management, Orthopedics and Urology: These clinics have temporarily relocated to the Healthy Communities Building at 3900 Ambassador Drive (building near pond)
The Pulmonary Function Lab and Sleep Center is closed until June 1. The clinic is still accepting referrals, but will have a longer delay in scheduling because of the closure.
All other patients with emergency medical needs should use Emergency Department entrance at the east side of ANMC. All other hospital entrances are closed.
All patients and visitors will be screened prior to entry.
The spread of COVID-19 has created an unprecedented situation for people across the country — especially within our health care communities. ANMC is taking immediate and proactive actions to protect the health of all of our patients and our workforce. Thank you for your understanding.
---
Hospital visitors: Information for visiting the Alaska Native Medical Center or other ANTHC locations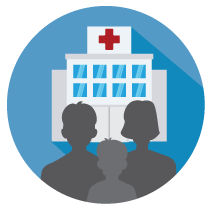 We care deeply about the well-being of our patients, their families, and loved ones. To reduce risk of infection and exposure, as of March 25, 2020, ANMC is postponing visitors in our inpatient units and emergency department. No visitors are permitted.
Visitation Guidelines:
Out of an abundance of caution for COVID-19 and for the safety of our patients and staff, ANMC is allowing no visitors in our inpatient units and emergency department.
Exceptions include:
One birth partner in Labor and Delivery. We ask that birth partners stay in the unit. If a birth partner leaves, re-entry is not allowed.
One parent or guardian for pediatric patients not in isolation. We ask that the parent or guardian stay in the unit. If a parent or guardian leaves, re-entry is not allowed.
End-of-life patients will be considered on a case-by-case basis.
We will utilize technology to connect family members whenever possible.
Everyone entering the building will be screened and people must sanitize or wash their hands before entering. All approved birth partners, parents, guardians, or exceptions will have an approved visitor identification.
Thank you for your understanding and support in keeping our patients and staff healthy!
---
Important health tips for COVID-19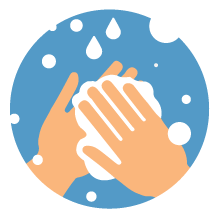 Wash your hands often with soap and water for at least 20 seconds, especially before eating; after going to the bathroom; and after coughing, sneezing or blowing your nose. If soap and water are not readily available, use an alcohol-based hand sanitizer with at least 60% alcohol. Always wash hands with soap and water if hands are visibly dirty.
Avoid close contact with people who are sick.
Avoid touching your eyes, nose and mouth.
Stay home when you are sick.
Cover your cough or sneeze with a tissue, then throw the tissue in the trash.
Clean and disinfect frequently touched objects and surfaces using a regular household cleaning spray or wipe.
Check on Elders for their health needs and encourage anyone 60 and older to stay home.
People with underlying health conditions or immunocompromised should also stay home.
Continue healthy practices such as eating healthy foods, drinking water and managing stress.
Stay aware of travel guidelines.
---
Contact information for COVID-19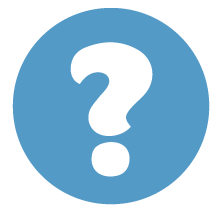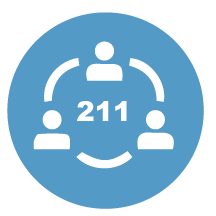 General questions from the public: The Alaska Department of Health and Social Services has made 2-1-1 a resource for questions from the public regarding Coronavirus Disease 2019 – COVID-19. If you are trying to reach any of our clinics to ask general questions about the Coronavirus, please call 2-1-1 for up-to-date information. If 2-1-1 does not work in your area, please call 1-800-478-2221.
---
Frequently asked questions about COVID-19 (source: Alaska DHSS)
How contagious and deadly is this virus?
While we still have much to learn about this new disease, it appears to be more transmissible than the seasonal flu but less transmissible than measles. Current research so far indicates that each infected person transmits the virus to about 2.5 other people on average. The case fatality rate for this disease is not known as it is still early in the outbreak. Current data show that the case fatality is about 2–3%, but the actual case fatality rate may be lower because it's likely that many people with milder illness are not being identified. For perspective, the estimated COVID-19 case fatality rate is considerably higher than seasonal flu (<0.1%), but lower than SARS (severe acute respiratory syndrome, ≈10%).
Why is everyone bringing up influenza in the context of COVID-19?
We are in the middle of influenza season, and influenza and COVID-19 are both respiratory illnesses that can cause hospitalization and death.
The Centers for Disease Control and Prevention (CDC) estimates that about 8% of the U.S. population gets the flu every year, resulting in hundreds of thousands of hospitalizations and tens of thousands of deaths.
Flu symptoms are similar to COVID-19 symptoms and require similar resources.
Our health care system will be better able to manage a COVID-19 outbreak if we have fewer flu cases. Therefore, everyone over six months of age should get their annual flu vaccine if they haven't already done so. Seasonal influenza activity typically continues into April or May.
What should Alaskans do to prevent the spread of respiratory infections?
Keep at least 6 feet away from ill people who are coughing or sneezing.
Wash your hands frequently with soap and water for 20 seconds. If you don't have soap and water, use alcohol-based hand sanitizer that is at least 60% alcohol.
Try to avoid touching your face, mouth, nose, and eyes.
Routinely clean frequently touched objects and surfaces, including toys, doorknobs, keyboards, and phones.
If you begin to feel ill, stay home! Stay home for at least 24 hours after you no longer have a fever without the use of fever-reducing medicines.
Cover your coughs and sneezes with a tissue and throw away the tissue after use. If you don't have a tissue, cough and sneeze into the inside of your elbow.
If you think you have COVID-19, call ahead and make an appointment before seeing a clinician. This will help the health care provider's office take steps to keep other people from getting infected or exposed. When you call, make sure you tell the provider if you think you may have been exposed to the virus that causes COVID-19, either through travel or with a case of the disease.
What can we expect in rural areas?
While COVID-19 can be serious, many cases appear to have mild respiratory symptoms that do not require hospitalization. All patients suspected to have COVID-19 should be immediately put into isolation. This isolation might occur in a hospital or home setting, depending on available resources and the individual patient's situation.
Some patients may be flown to hospitals elsewhere while others may be cared for within the community. Many people who contract COVID-19 do not get very sick and do not need to be hospitalized.
---
Browse More Stories
---
Share This Story