ANTHC provides world-class construction in some of the most remote parts of Alaska. From installing wells and septic systems in individual homes to providing whole communities with safe drinking water and healthy waste water disposal for the first time, the work we do supports the health of Alaska Native people in their home communities.
Below is an example of our work in clean water and sanitation for Kivalina.
On the edge of climate change: Testing water system infrastructure one home at a time for the health of Kivalina residents
ANTHC's clean water and sanitation work focuses on bringing health solutions to rural communities through access to clean water that supports health and well-being. Having in-home water and sewer makes hand washing and healthy hygiene practices easier, which have been shown to reduce illness. Infants in villages with limited water service have five times more hospitalizations for respiratory infection and 11 times more hospitalizations for pneumonia than the overall U.S. population.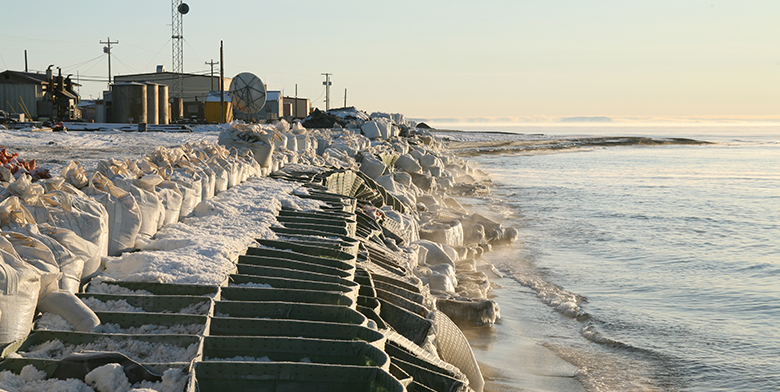 For residents of Kivalina in northwest Alaska, constructing a new water and wastewater system for the entire village is not an option. Due to effects of climate change, Kivalina intends to relocate to escape the ongoing vulnerability to flooding and erosion. In the meantime, there are deficiencies in sanitation that must be addressed in order to support the health needs of community residents.
ANTHC and the Cold Climate Housing Research Center are working with the community of Kivalina on a demonstration project for non-piped, in-home sanitation systems. The project retrofitted nine homes with low-cost sanitation improvements that can be moved with the community to a new location. Over the next year, the project will monitor homeowner acceptance, health benefits and feasibility for other northern coastal communities.
With this project, all water treatment and waste disposal happens in the home. Water is collected from rainwater catchment, melted ice or water hauled from the river and stored in a treatment tank. It is distributed by gravity to low-flow sink and toilet fixtures. Flushed wastewater is separated into liquid and solid components where the liquid is disposed of into a seepage pit and dried solids are disposed of in the landfill.
Modular construction of the system facilitates quick installation and reduces construction costs; the system is mobile and can be moved with the home if and when needed. Most importantly, Kivalina residents will have access to water that makes our communities healthier and more sustainable.
Portable Alternative Sanitation System: Final report | Kivalina, Alaska [PDF]
Individual Sanitation Facilities Scattered Sites Program
ANTHC's Individual Sanitation Facilities Scattered Sites Program works with communities across the state of Alaska to provide eligible homes owned by Alaska Native and American Indian people with on-site sanitation facilities. The program designs and constructs individual on-site water supply wells, cistern water storage systems, on-site wastewater systems (septic tanks and drain fields) and community sewer and water service line connections.
To be considered, applicants must meet all eligibility requirements for water and sewer facilities listed in the application and a complete application including all paperwork and supporting documentation must be submitted.
Click here for the scattered sites application
Individual Sanitation Facilities Scattered Sites Program
(907) 729-4098
(907) 729-3702