Keep yourself and those around you safe this flu season!
October 17, 2019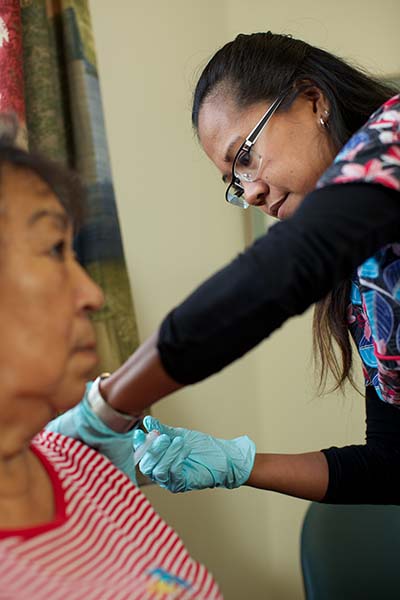 Flu season is upon us in Alaska and it's time to get a flu vaccine to protect yourself and your loved ones. Getting an annual flu vaccine is the first and best way to protect yourself, your family and your community from the flu.
If you live in the Anchorage area, the ANMC Anchorage Native Primary Care Center (ANPCC) is hosting a flu vaccine clinic every Saturday in October (Oct. 5, 12, 19 and 26). The ANPCC is located right across from the ANMC hospital at 4320 Diplomacy Drive. The flu vaccine clinic will be held at the ANPCC 2 East Clinic from 10 a.m.- 2 p.m. Vaccines are available for adults and children ages five and older. Patients must have an established chart at ANMC. No appointment is necessary.
If you do not live in the Anchorage area, check with your local Tribal health organization, as many are running flu clinics across Alaska. If you are visiting Anchorage, the Walk-in Clinic at ANMC also has flu vaccines available seven days a week without an appointment.
Flu vaccines will also be available in Fairbanks for adults Oct. 17 from 9 a.m. – 5 p.m. and Oct. 18 from 9 a.m. – 4 p.m., at the Health Fair during the Alaska Federation of Natives annual convention at the Carlson Center.
Some people, such as Elders, young children, and people with certain health conditions, are at high risk of serious flu complications. Serious outcomes of flu infection can result in hospitalization or death. Please get your flu vaccine to protect yourself and others around you.
---
Browse More Stories
---
Share This Story