ANTHC Patient Housing department: Going above and beyond, even in a pandemic
December 4, 2020
The Patient Housing Department provides lodging for patients receiving care at ANMC who live outside the 90-mile radius of Anchorage— more than 60% of ANMC's patients travel from outside the Anchorage area for care.

The 23-person Patient Housing department coordinates lodging accommodations for ANMC beneficiaries and is also a preferred Medicaid Hotel. The department works diligently to contact all patients arriving in Anchorage and confirms their lodging location and dates of stay, assists guests in reserving Medicaid Hotels, ensures meals are available for guests, provides assistance to guests in navigating the ANMC Campus via shuttle, taxi or walking directions to all appointments and airports, and works closely with our Travel Management Team to ensure our guests receive an up-to-date travel itinerary, Medicaid Vouchers and other support as needed.

The COVID-19 pandemic created an unprecedented situation for people and communities across Alaska and the ANTHC Patient Housing Department quickly and thoughtfully adapted their operations in order to keep our patients and staff safe.

"COVID-19 created new guest needs. Our team had to adapt quickly to not only inform guests of the changes due to COVID-19, but to also reassure them that every precaution was being taken to protect them while at ANMC," said Athena Midvag, Housing General Manager.

When COVID-19 hit Alaska, Patient Housing arrivals plummeted rapidly, and operations were sharply modified to meet the ever-changing recommendations from the Centers for Disease Control and Prevention. In order to keep our guests safe, Patient Housing access was limited to patients and escorts only. Our team now supplies masks and PPE to employees and guests, screeners are posted at all entry points, and workstations were modified to meet social distancing requirements. Patient Housing leadership also had to quickly implement a quarantine process to care for our COVID-19 positive guests. Confirmation calls became a crucial part in preparing our guests for arrival under COVID-19 restrictions.

In March, due to Anchorage Municipal mandates, dining establishments in Anchorage were abruptly required to close for in-person dining. Our Patient Housing and Food and Beverage teams had a very short time to find alternate means of providing meals to our guests. The teams met that challenge, and quickly found a solution— providing in-room meal service to hundreds of guests three times per day. Patient Housing works closely with the Food and Beverage team to coordinate approximately 800 meal deliveries daily.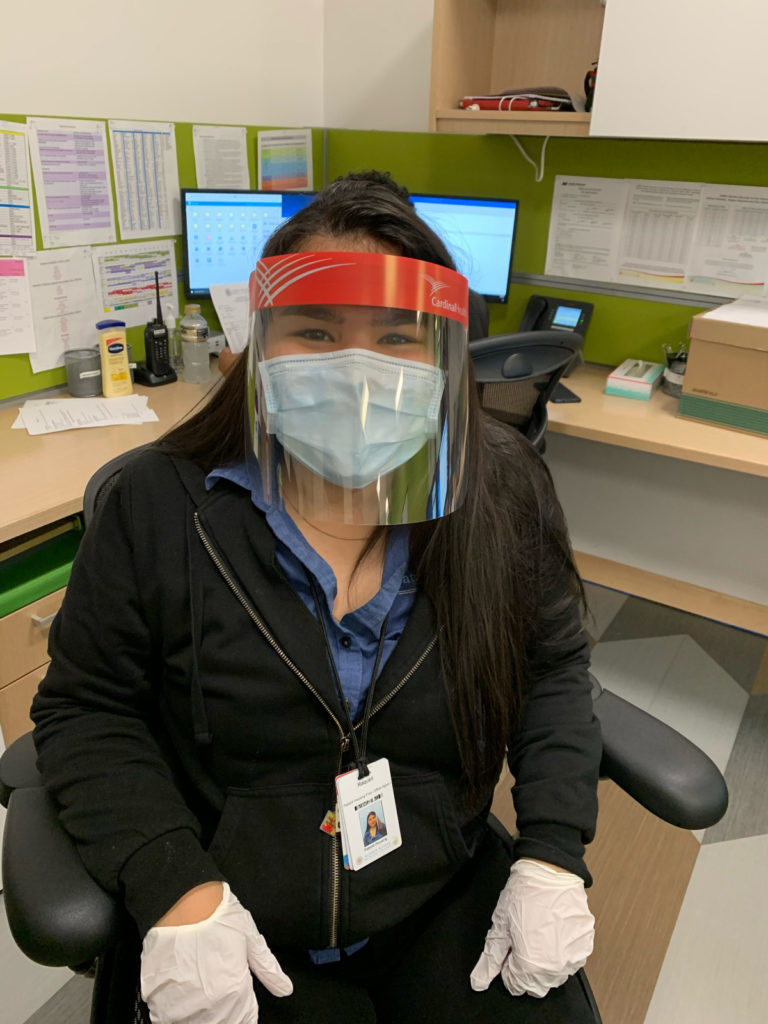 Due to COVID-19, travel restrictions were implemented across the state, and varied greatly between regions and villages. Patient Housing became a central communication hub between communities, the Travel Management Office and ANTHC Specialty Clinics to ensure guests were able to meet these requirements and had the necessary documents ready before departure.

"Even though many of our staff were anxious about the COVID-19 pandemic, they remained courageous and continued to provide the highest level of service possible to our guests," said Midvag. "Our team has tirelessly worked to constantly update our guests on required PPE, airport operations, travel restrictions, changes to meal service, and ANMC's restrictions in place for guests and visitors. Patients were grateful for the contact and better prepared for the changes at arrival."

Part of the appeal for our patients to stay on campus is the "home away from home" feel our staff work so hard to provide for our guests. On Patient Housing's sixth floor, ANTHC operates Alaska's only Ronald McDonald House, which provides accommodations and specialized support to high-risk expectant mothers and pediatric patients.

Because of COVID-19, the Ronald McDonald House had to close down all family activities and events. Family playrooms and kitchens were also shut down, and staff quickly adjusted operations to provide a safe registration to the floor, found ways to safely provide snacks and activities to the guest rooms and creative ways to allow volunteers to provide gifts and meals, while adhering to COVID-19 physical distancing restrictions.

"The professionalism and fearlessness of our staff and the trust our guests have in them is immeasurable. Every day they make the choice to not only continue to serve our people, but each other, through this pandemic," said Midvag. "This team shares the fears and losses they have suffered with one another, and it is humbling to know how crucial they are in providing access to care for our people."

In addition to navigating other aspects of the response to the COVID-19 pandemic, the Patient Housing team also worked to address changes in staffing. Several team members knew they could not take the risk of remaining in a frontline position, which resulted in a sharp decline in staffing. Other team members were unable to work from campus and moved to support from remote work locations, providing back of house and office support where needed. Frontline agents remained flexible and modified work hours to meet the needs of the department. They trusted leadership and continued to execute their duties professionally and compassionately to ensure the comfort and safety of our guests.

"Patient Housing would not have succeeded through this transition if not for the dedication and commitment of our team. Our team has always been dedicated to outstanding service and ensuring every guest receives support and assistance when needed," said Midvag. "This team has never stopped going above and beyond, and continues to show extreme courage and strength as we continue to navigate the COVID-19 pandemic and work to keep our guests safe and happy."
---
Browse More Stories
---
Share This Story