ANMC celebrates its hardworking, talented nursing staff during National Nurses' Week
May 7, 2018
This story also appears in the April – June issue of the Mukluk Telegraph available online.
Since 2003, the Alaska Native Medical Center has been Alaska's only Magnet®-recognized hospital, which acknowledges high quality patient care, nursing excellence and innovations in professional nursing practice. Our nurses display commitment and excellence through professional development and evidence-based practice at ANMC. In addition to their work and education, many of ANMC's nurses participate in shared governance and the Magnet journey — ANMC is currently in the process of applying for its fourth designation.
ANMC celebrates and thanks our nurses during National Nurses' Week, which is celebrated annually from May 6, National Nurses Day, through May 12, the birthday of Florence Nightingale, the founder of modern nursing.
ANMC nurses are known for going above and beyond in their work, and that dedication is one of the reasons why ANMC has remained Alaska's only Magnet-recognized hospital for the last 15 years. More than 550 nurses work in the ANMC hospital and across the Consortium, making up a quarter of our workforce.
Our nurses are viewed as respected partners, collaborators and leaders. They are constantly seeking ways to improve the services and care we provide, from processes and initiatives to technology and equipment. Many of our nurses continually strive to strengthen and expand their own skills, as well. More than 175 ANMC nurses have national specialty certifications, with many nurses holding multiple certifications.
In an effort to further recognize our nurses for their outstanding work, ANMC partnered with the DAISY Award, an international program that rewards and celebrates the extraordinary clinical skill and compassionate care given by nurses every day. ANMC presents the DAISY Award quarterly to a RN who regularly goes above and beyond in the care they provide.
The DAISY Foundation was established in 1999 by the family of J. Patrick Barnes, who died of complications of the autoimmune disease Idiopathic Thrombocytopenia Purpura. DAISY is an acronym for Diseases Attacking the Immune SYstem.
2017 DAISY Award winners
Rachel Campanella, Critical Care Unit
Eight-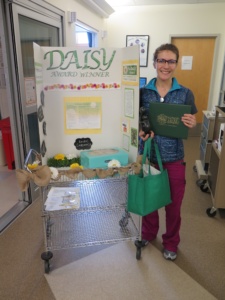 year ANTHC employee, Rachel Campanella, was nominated by the wife of one of her patients, who wrote the following about her: "Rachel is very thorough in explaining what [my husband's] medications are for. She helped me understand my husband's illness more than anybody has since our first admission to the unit. She always lets me know what she is doing when she interacts with my husband, whether it be administering medications or just to turn him."
In response to being presented the DAISY Award, Campanella said, "I remember hearing about the DAISY Award as a brand-new nurse, and wishing I could reach that level of excellence one day. Receiving this award makes me feel hopeful. Knowing I connected with a family in such a way confirms that I am making the impact I strive for. I feel accomplished and truly humbled. I'm just so thankful to be a significant part of this man and his family's journey to healing."
Kim Tantanella, Medical-Surgical Unit
Kim Tantanella, an Alaska Native RN and five-year ANTHC employee from Akiachak, received two separate nominations from her fellow nurses for the DAISY award. They wrote the following about her: "Kim is always offering her help to other nurses. She is very compassionate toward staff and patients. Always willing to take the time to stop and list
en to patients and staff. Kim's patients always receive the best care and she always goes above and beyond when it comes to patient care. There is no one story that I could share that depicts Kim as a whole, rather her everyday actions speak volumes for her character. She is very knowledgeable and confident in the care she provides to her patients and fellow staff members. She never hesitates to offer a helping hand and you can feel her sincerity whenever you speak with her. Kim is proactive in her approach and provides care to the patients as a whole instead of focusing on their sicknesses."
On winning the DAISY Award: "It is an amazing honor and I can't believe I got it!" said Tantanella. "I really appreciate my coworkers and my director for the amazing teamwork atmosphere on 5 West. I love having the opportunity to serve the community I was born in along with other Alaska Native cultures."
Elizabeth Hesse, Critical Care Unit

Elizabeth Hesse was nominated by her fellow RN and colleague, Lauren Kennard, for her efforts in integrating palliative care practices in the ANMC Critical Care Unit (CCU). ANTHC recently added a Palliative Care Program and Beth partnered with them to pilot a program in the unit. Kennard Wrote, "For many years, ANMC lacked a solid palliative care program for inpatient clients. Frequent attempts were made by bedside nurses to address the lack of palliative care options, but nothing ever came to be. Beth not only saw this issue, but took it as a challenge to overcome and unlike anyone before her, she has made a difference. In the short weeks since palliative care practices have been piloted in the unit, I have seen so many benefits. Morale has improved unit wide, and we are providing better end of life care than we have ever provided in the past."
"I am very proud and honored to win this award," said Hesse. "Every day I come to work, I strive to leave my patients in a better state then when I arrived. I work to go above and beyond my role to provide my patients and their families with the care they deserve. In a profession that is mostly thankless, I am ecstatic to be acknowledged for my hard work and dedication in making a difference."
Stephani Davey, Critical Care Unit
Davey was nominated by the family member of a CCU patient for her exceptional care of the nominator's mother. Her nominator wrote, "Day in and day out, my family and I checked on my mother's progress, and Stephani has tak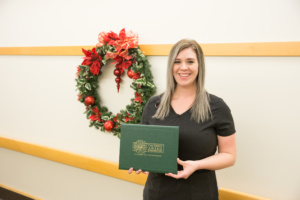 en the extra step to keep us updated with no questions asked. As soon as she saw me or my family, she would greet us and give us updates. She is always friendly and helpful. I felt much better each day knowing my mother was in good care."
"I've always felt the DAISY award is presented to nurses who exhibit excellence in their practice. They are patient advocates, team players and passionate about nursing," said Davey. "It is an honor to be recognized as one of those nurses. Knowing that I connected with a patient and their family in such a big way is a huge privilege. I feel humbled and honored that I was able to be a part of this family's journey. I love working at ANMC! The CCU has given me so many opportunities to challenge myself and grow as a nurse. Our team is amazing to work with! We really value teamwork, respect and autonomy— I feel so privileged to be able to work with such a great crew!"
Patients, their families and fellow ANMC staff can nominate nurses for DAISY Awards. Nomination forms and collection boxes have been placed throughout the ANMC hospital. Subsequent honorees will be selected quarterly and each DAISY Award honoree will be recognized at a public ceremony in her or his unit or department. For more information about the DAISY Award program, please visit www.DAISYfoundation.org. For questions about nominating an ANMC nurse, please email Kimberley Carr at krcarr@anthc.org.
---
Share this story