#6 Top Story of 2018: Alaska Native artist creates murals to inspire API youth
December 26, 2018
This story was one of ANTHC's top news items in 2018. The original story was published in September 2018.
When Tlingit artist Benjamin Schleifman was presented with the opportunity to create murals for Chilkat, the Alaska Psychiatric Institute (API) adolescent unit, he answered yes without hesitation. "I had no idea what the scope was," Schleifman said. "It was totally unexpected. When I found out it was for the youth wing and something that was being funded for suicide prevention – something I've battled with my entire life – I really just felt the need to do it." Last year, Schleifman met with Dr. Tamara Russell, API Clinical Director, two Chilkat unit leaders and a representative from the ANTHC Suicide Prevention Program. They went over Schleifman's portfolio and came up with a plan of action. He would create three murals in the main entryway into the Chilkat wing, a button blanket chalkboard, and an abstract Tlingit design surrounding the center point of the wing. "Prior to the completion of the murals, the Chilkat Unit looked pretty sterile and not interesting," said Dr. Andrew Pauli, Chilkat Unit psychiatrist. "The artwork makes it look inviting and lets the adolescents know that someone cares about them, their background and their recovery. We want our kids to know that they are loved and valued. The murals, both the ones done by Benjamin and the mountain scenes done by other artists, let them know they are worth a lot of effort." The adolescent unit has 10 beds and provides mental health hospitalization for youth ages 13 to 17 who may live in any region of Alaska. The teens often present with suicidal impulses or have engaged in self harm, may be significantly depressed or anxious, could have a significant trauma history, or may be exhibiting the first symptoms of a major mental illness such as bipolar mood disorder or schizophrenia. As someone who has battled thoughts of suicide and depression, Schleifman understands the power of art as an outlet. "I use art as therapy every day. It doesn't matter which medium I'm using – metal, wood, graffiti – it's all art therapy."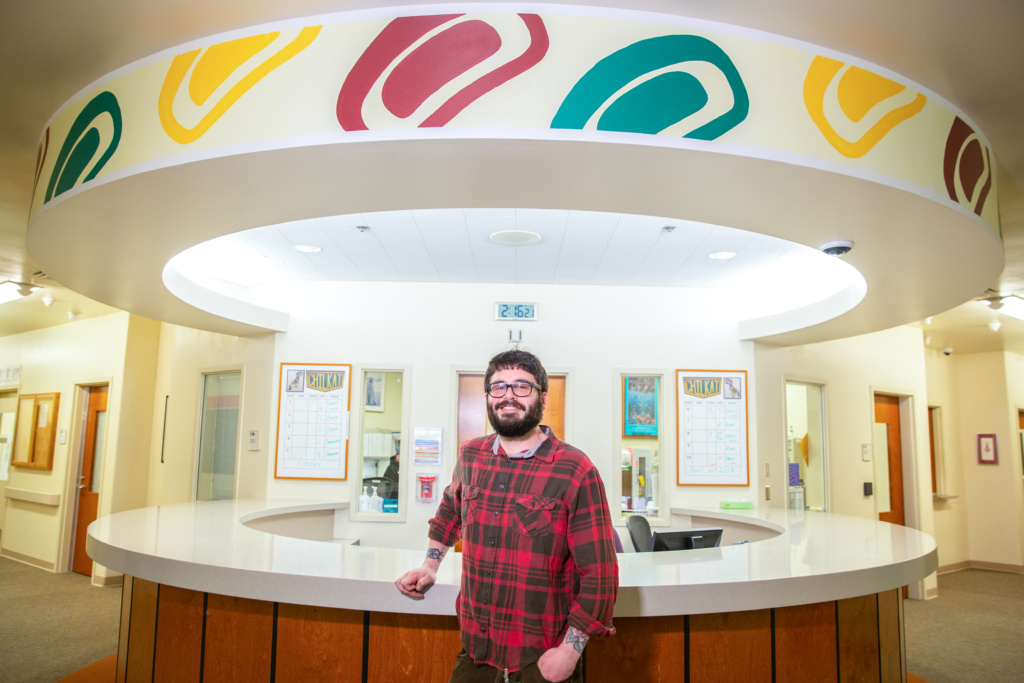 Schleifman, whose family is from the Taku River region and of Raven moiety, Frog crest, used traditional Tlingit form-line for the murals. He hopes children in the unit can find some inspiration and a connection through the art, whether they are Tlingit, Native or of another heritage. "That's the ultimate goal. The Tlingit form line isn't indigenous to this area of Alaska, there's plenty of indigenous children in this unit who can identify with some aspect of it," Schleifman said. "Eagles and ravens are pretty universal throughout the state. It gives them a little icon that they can identify with and hopefully get them through the day." API provides emergency and court-ordered inpatient psychiatric services in a safe environment using culturally-sensitive, effective, person-centered treatment followed by a referral to an appropriate level of care and support for recovery from mental illness. "Many of the adolescents admitted to API for treatment have thought about or attempted suicide. The wonderful murals on the walls help them connect with their communities and with nature. In addition, the artwork lets these teens know they are valued and that both the hospital and ANTHC are committed to their recovery," stated Dr. Russell. "The artwork brings a sense of hope and a spirit of fun and future to the unit." When he's not creating, Schleifman teaches part time in the Anchorage School District through Title VI under the Indian Education Act. He also led art classes at API in conjunction with the project. He thinks art can connect Alaska Native children to their culture and also give them a positive outlet for their feelings. Schleifman led four 90-minute classes at API, discussing Tlingit legends and other indigenous stories the students wanted to share. Discussions took place while he shared an introduction to Tlingit form line art, allowing students to explore possible new healthy forms of expression, both artistically and conversationally. "It's a complicated system having students for a grand total of maybe four hours is barely the tip of the iceberg. But there are some tremendously talented kids in there," Schleifman said. "When you're teaching something that's not indigenous to the population, I always encourage them to take the art form and make it their own. Watching them take snippets of the art form and take it into their own perception and create what they wanted to create was rewarding." ANTHC Suicide Prevention Program partners with API to promote mental health resources to Alaska Native people. Schleifman was honored to be selected for the project and is proud to know there are organizations that support mental health for Alaska Native people. "Anything that empowers Alaska Native people is an amazing organization in my eyes; I didn't know anything about the ANTHC Suicide Prevention Program until I was asked to do the project," Schleifman said. "We have the highest rates of suicide amongst any ethnicity so anything that can be done is literally lifesaving."
The mural and article were developed under grant number SM061935-02 from the Substance Abuse and Mental Health Services Administration (SAMHSA), U.S. Department of Health and Human Services (HHS). The views, policies and opinions expressed are those of the author's and do not necessarily reflect those of SAMHSA or HHS.
---
Browse More Stories
---
Share This Story